Michinhampton War Graves of WWII
Diana Wall
In the northwest corner of Holy Trinity Churchyard, Minchinhampton, there are four war graves, tended for many years by the late Maybelle Dullea. Others have now taken on the task. The memorials record four young airmen, members of the Operational Training Units at Aston Down, who lie many miles away from their homes:
Sergeant Thomas Desmond Vernon
Pilot of the Royal Air Force
28th December 1940
Sergeant Peter Brian Tyers Quint
Pilot of the Royal Australian Air Force
6th October 1941
Sergeant Norman William Barbeau
Pilot of the Royal Canadian Air Force
7th December 1941
Sergeant Roger Pierson Owen
Pilot of the Royal Canadian Air Force
18th December 1941
Operational training was a dangerous exercise, and many young pilots lost their lives in and around Aston Down and the other airfields in Gloucestershire. Recruits would first train with an instructor in two-seater Miles Master aircraft, then the pilots honed attack techniques solo, first in Hawker Hurricanes and as they became available from the factory, Supermarine Spitfires. By reference to various sources, including the excellent "Wings Over Gloucestershire" by John Rennison (1988) it has been possible to find out rather more of the circumstances of these young pilot's deaths.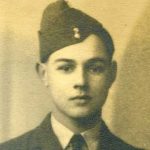 Sgt. Vernon was a member of 55 O.T.U. Aston Down, aged nineteen, and he was killed when his plane, a Hurricane, nose-dived into a farm at Saul. His memorial stone relates that he we the dearly loved grandson of V.L. Johnston of Brighton in Sussex.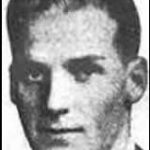 In some accounts Sgt. Owen is listed as an American, and he certainly lived for a time in New York state.  However, he was flying with the Canadian Air Force when a member of 52 O.T.U. Aston Down, who was killed on take-off, crashing his Spitfire at France Lynch.

Sgt. Quint was a twenty-four year-old member of 50 O.T.U. Aston Down, also a Hurricane pilot. His aircraft was caught in the slipstream of others in the formation, and crashed at the New Grounds, Slimbridge, now part of the Wildfowl and Wetlands Trust site. "For King and Country, His duty nobly done" reads his inscription.
Norman Barbeau was one of six brothers from Ontario, three of whom served in the Royal Canadian Air Force. Aged just twenty, he was married one month before being posted overseas, and was in England for about a month when he was killed. Barbeau was based with an Operations Training Unit (O.T.U.) at Aston Down and was taking off in his Spitfire when his port wing hit a petrol tanker. He was committed to take off, the wing became detached and the plane crashed on to the road at Stratton St. Margaret, Swindon. His elder brother, George, corresponded with Mrs. Dullea, and sent her a photograph of Norman, together with a copy of a poem he wrote to his mother on arrival in England – the family treasure it as a poignant tribute to him.
Nature and God
I stood on a Surrey hill one day
Looking down over the green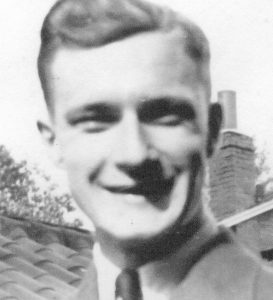 The morning sun came slanting down
And tipped each dewy blade with sheen.
Upon the sparkling stream below
A thousand sunbeams danced
And from a poplar's fluttering leaves
A thousand others glanced.
I've never forgotten that beautiful morn
When angels kissed the Surrey sod
I've treasured it deep inside my soul
For it brought me close to God.
And whenever I feel a doubt of Him
As in the loss of someone dear
I think of that day in the Surrey hills
And I feel God's presence near.
A fitting memorial to those young men who gave their lives for the freedom we now enjoy.