Minchinhampton Local History Group has been at the forefront of projects to mark the Centenary of the Great War; it is a member of the Five Valleys Great War Researchers.  In 2014 we staged our own exhibition "Sunshine and Shadows" which looked at Minchinhampton before, during and after the conflict.  In 2015, with other local history groups "The Stroud District and its part in the Great War" was attended by many visitors, including descendants of the Cole Brothers of Bourne House and a small act of remembrance, featuring the brothers, took place at Brimscombe War Memorial.  During 2016 members participated in the "Whistle for the Somme" commemoration in July, corresponding with a further exhibition focusing on this part of the conflict, held at Stroud Congregational Church.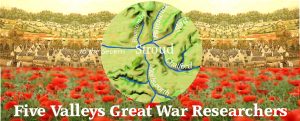 The research for these exhibitions has been facilitated by our own large collection of photographs that chronicle the town and surrounding areas – Box, Brimscombe, Amberley etc. – in the years before the conflict. To these can be added the information from local Trade Directories and Guidebooks to give a snapshot of life here during the Great War. It is hoped that many of the exhibits will be displayed over the next few years in Minchinhampton Community Library.
In 1994 Minchinhampton Local History Group was presented with a volume compiled in 1924 detailing war service within the ecclesiastical parish. This has proved invaluable in tracing the role of the area during the Great War. To prevent damage to the original it has been scanned in three sections, which you can see for yourself by clicking on the links below.
Record of War Service 1
Record of War Service 2
Record of War Service 3
A group of local researchers are working on the life stories of all those recorded on the war memorials in Minchinhampton and Brimscombe.
The four volumes of research on the men of the town are now deposited in Minchinhampton Community Library. You can consult these (THEY CANNOT BE REMOVED FROM THE LIBRARY) and can be found on the bottom shelf of the Local History Group Section, to the left of the desk.  As the results are collated, a spreadsheet is compiled showing the basic information about the man – birth, parents, address etc. You can view the information by clicking on the link below:
Following the research work on the Minchinhampton men, the study has been extended to the memorial at Brimscombe Corner, detailing the names of the men from Brimscombe and Thrupp who made the ultimate sacrifice. A pdf showing the work so far can be accessed below:
Any further information about any of the men featured would be most welcome and you can contact the researchers via the Contact Page
Stories are gradually being compiled by Diana Wall focusing on the lives of some local families and men who served in Minchinhampton. These have been published in parish magazines of the area and can be accessed below:
Curzon Hamel

Johnson Brothers of Hyde