Welcome to the Minchinhampton Local History Group Website!
This is the website for Minchinhampton Local History Group. We are still building it so please bear with us!  Do keep returning as new material is being added all the time.

"The Stroud Valleys in the Great War"
Commemorative Exhibition 3rd to 11th November 2018
The Museum in the Park, Stroud
A major commemorative exhibition has been organised by the Five Valleys Great War Researchers to which Minchinhampton Local History Group has made a strong contribution. "Stroud Valleys in the Great War" will be held at the Museum in the Park the week leading up to the centenary of the Armistice, from Saturday 3rd to Sunday 11th November.   The displays include information about the Home Front, Standish and other V.A.D. hospitals, local refugees, the Volunteer Training Corps, Minchinhampton Aerodrome, individual soldiers – and much, much more.  Visitors will be able to consult research by the member groups, view posters and photographs of this area at the time, study artefacts from the Museum and, hopefully, contribute their own family stories.
OUR LATEST PUBLICATION: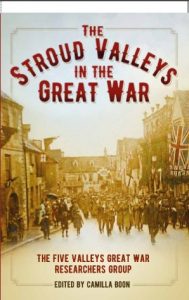 The Great War story of the Stroud Valleys – including Minchinhampton, Brimscombe, Rodborough, Stonehouse, Chalford and the surrounding villages, as well as Stroud itself – is told in contemporary documents, reminiscences recorded over time, and modern research, all vividly illustrated by postcards, photographs and other World War I ephemera. A section explores the Great War from the Minchinhampton Perspective, not just the names on the war memorials but the experiences of those in the town at the time.  A further chapter looks at the development and final abandonment of the Australian Air Force Minchinhampton Aerodrome in the years 1918 – 1919.  The cover depicts the Victory Parade, in July 1919, in Minchinhampton High Street.
The book can be purchased from bookshops in the area or from the exhibition in November, price £12.99.