Welcome to the Minchinhampton Local History Group Website!
This is the website for Minchinhampton Local History Group. We are still building it so please bear with us!  Do keep returning as new material is being added all the time.

A NEW PUBLICATION: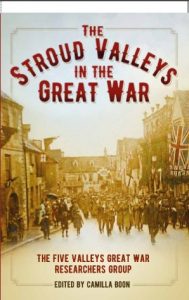 The Great War story of the Stroud Valleys – including Minchinhampton, Brimscombe, Rodborough, Stonehouse, Chalford and the surrounding villages, as well as Stroud itself – is told in contemporary documents, reminiscences recorded over time, and modern research, all vividly illustrated by postcards, photographs and other World War I ephemera. A section explores the Great War from the Minchinhampton Perspective, not just the names on the war memorials but the experiences of those in the town at the time.  A further chapter looks at the development and final abandonment of the Australian Air Force Minchinhampton Aerodrome in the years 1918 – 1919.  The cover depicts the Victory Parade, in July 1919, in Minchinhampton High Street.
The book can be purchased from bookshops in the area (£12.99), or from Minchinhampton Local History Group (Mrs. Diana Wall) or the Parish Office at the Trap House at the special introductory price of £10.
NEXT

MEETING:
There is a break in talks now until September, although members have a visit in June to Tetbury
Meetings take place at The Hub, Tobacconist Road, commencing at 8.00 p.m..  For details of how to get to the Hub, click here.
If you have not renewed your membership, or are interested in joining the Local History Group, you can download a membership form membership-2017 and return it, with the appropriate fee, to the address given.